Training Guide MCSA: Server 2012 R2
Recently I've seen MCITP certification on IT Pros' to-do lists far too often. Don't get me wrong, the MCITP was an AWESOME flagship certification back int the 2008/2008 R2 era, but those days are behind us now.
To go along the same lines of this discussion, I feel like I'm also having to explain to far to many folks that the MCITP line has been replaced, and if you've been keeping up with things in the certification world, then you would know that Microsoft has brought back the MCSA/MCSE designations and is retiring the MCITP line of certifications. 
In short, if you're working on your MCITP 2008 R2, STOP. You're wasting time on technology that is 6 years old and is 2 major revisions behind. I know it's hard to get free time to study, so you have to make those hours count by getting the most bang for your buck.
So, if you're starting down the road of Microsoft certification, the first place you're going to want to look is the MCSA: Server 2012 certification. It is your gateway to most other Microsoft certifications and I recommend it be your starting block.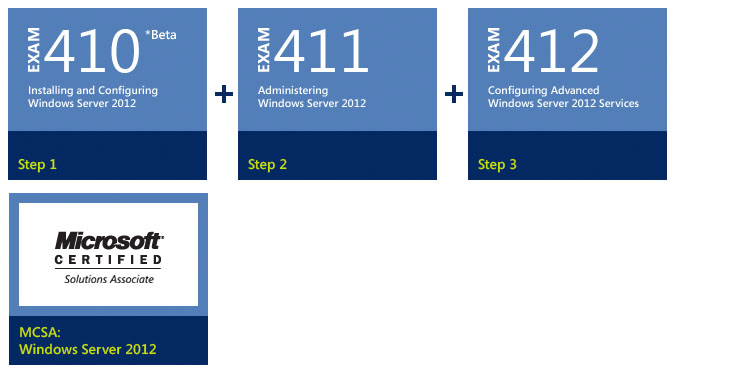 The competency consists of 3 exams: 70-410, 70-411, and 70-412. Each exam will test your knowledge of the core Server 2012/2012 R2 features.
Below you will find the relevant links to free study materials for each of the 3 exams. My good friend over at Microsoft, Keith Mayer, put these guides together, and I'd be hard pressed to find any better material to help you prepare. All 3 guides are HIGHLY recommended.
This is more than enough material to get you started. I do have a couple of my own tips however.
 Get hand's on experience with Server 2012 R2. It's not enough to just possess the "Book-Smarts". You will fail. I would recommended getting Windows 8 Pro or Enterprise loaded up on your PC and make use of Client Hyper-V. Or, if you have an extra machine lying around download Hyper-V Server 2012 R2 and use that to build out your lab. Another options would be an Azure trial. Guide to doing that here.
You will need to know how to setup and configure Server 2012 and it's roles/features via the GUI "AND" Powershell. So, you need to learn how to do it BOTH ways.
Don't underestimate the exams. They are tougher than you think they're going to be
Other than that, just have fun and enjoy. It's all good, relevant material, and it will help you in your day-to-day life as an IT Pro.
Thanks for reading all!