Newly Published Book on Hyper-V Security!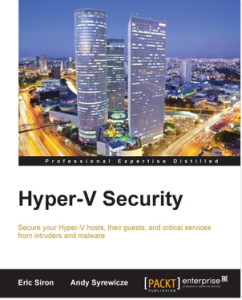 I am extremely proud to announce that the book I co-authored on Hyper-V Security with fellow Altaro.com blogger Eric Siron has been published by Packt Publishing, and is available directly via the publisher and numerous other outlets including Amazon.
The book is largely focused around Hyper-V security and the larger security concepts contained in the Microsoft virtualization eco-system.
The book is targeted at IT Pros who are already familiar with basic Microsoft security concepts and have a basic working knowledge of Hyper-V and System Center.
Chapters 1 through 6 focus on the security of the host system and the associated guest VMs, while chapter 7 focuses on how System Center VMM plays a role in security and chapter 8 centers around App Controller and how it enables the management of multiple public and private clouds through a unified securable web interface.
I'm happy to have the ability to continue contributing to the community via this new media format and look forward to possibly doing some more in the future!