About
So, the burning question on everyone's mind….  What is this blog all about?
One could surmise that it's the blog of another IT Professional, like many others out there. One would be correct in that assumption.
The main goal in my making this blog is to provide a relevant and valid resource for other IT professionals in the arena of:
All Things Microsoft Virtualization, including Hyper-V and SCVMM.
The Windows Server Platform
Managed Services from a Service Provider Perspective
So…  the next question any reader is going to ask themselves is, Why?…  Why should I listen to this guy?
The truthful answer is, you don't have to. If you enjoy and find the content on this site valuable in some way, then I've accomplished my goal. With that in mind, for the sake of full disclosure, let me tell you a bit more about Myself.

I have been in the Industry for over a decade now. I've worked in several capacities ranging from Desktop Support to Virtual Systems Administration and Cloud Systems Support. I have also had the great pleasure of working in many different industry verticals during my career, including, Education, Fortune 500 Manufacturing, Medical, Non-Profit, and Service Delivery. During that time, I've seen and dealt with ALOT of weird issues that have allowed me to focus and grow in the 3 skill areas I have listed above. I now feel it is my duty to share that experience with the rest of the IT community.
If your interested in additional information on my background, feel free to check out my profile on LinkedIn.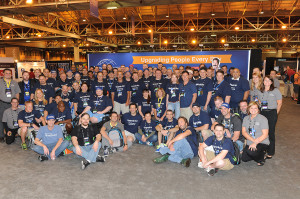 In June of 2013 I attended Microsoft TechEd and became a proud member of the #TheKrewe. #TheKrewe is an awesome group of like minded IT professionals that meet up at TechEd every year to swap stories, hang out, and just plain lend a hand to one another.
They are such a great group of people I felt it was worth giving them a shout out front and center as several of the blogs I follow myself are from other members of #TheKrewe and a lot of influence from #TheKrewe will be seen and posted here.
If you're interested on more information regarding #TheKrewe please check out the official site.
On that note, I'll leave you be, so you can have a look around. Feel free to contact me with Comments, Questions, or Concerns at anytime. I will get back with you as quickly as possible.
Hope to see you all around!
–A