A Personal Recap of 2013: Another great year to be in IT!
Hello once again everyone!
Welcome to my first written post of the new year!
Several year end projects at work, finalizing some certifications, and family stuff all contributed to keeping me away from the keyboard, but now i'm back in action and ready to continue providing top-notch content and info that you System Admins out there want and (hopefully) appreciate!
Before I get back into the routine of regular posts, I'd like to take a moment and review some of the more memorable things I came across in my life as a IT pro in 2013 and how they relate to the content that I post up and provide here.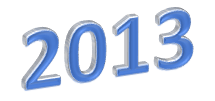 I came into 2013 as a Virtual Systems Admin, continuing to provide support and assistance to our customer base at work. I continued to learn new things, not the least of which was my continued fondness for all things Hyper-V and Server 2012. I found myself buried in the Microsoft server stack more and more on a daily basis, and loving it. After years of wish-washing between which technology stack to focus on, I finally decided to go all-in on Microsoft.
I had certainly taken and passed Microsoft exams in the past, but i had never delved too deeply in any of the exam tracks. I had achieved my MCTS: Server Virtualization 08 R2 in 2012 and completed a few other minor exams, but I never pulled down any of the flagship certifications such as a MCITP. I decided it was time for that to change.
It was around this time that I began to research my training options and stumbled upon TechEd. For those that aren't aware, TechEd is Microsoft's big annual training conference for IT Pros of all shapes and size, and I figured if I'm going to go 110% Microsoft, what better way to start, than to attend the premier Microsoft training event of the year? So, I popped the question, in a manner of speaking.
With that said, my employer was quite gracious and I was extremely fortunate to be able to attend TechEd in New Orleans in the summer of 2013.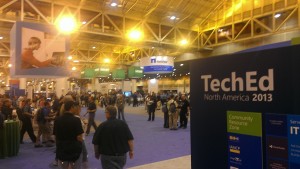 Upon arrival on the first day, I can confidently say that no one has TRULY experienced the Microsoft culture until they have attended TechEd. I was like a kid in a candy shop. I wanted to see and experience everything TechEd had to offer: sessions on every technology imaginable, hands-on labs, the tech expo. Sadly, anyone who has attended TechEd knows there is NO WAY to see it all. Thankfully, I made that determination early in the planning process.
It was at this point I decided on the MCSA/MCSE Private Cloud path. So, i tailored my experience based on that idea and was able to get further training on Hyper-V, Server 2012 R2, and Windows Azure. These are all great products which I leverage in my day to day professional life and I would not be as proficient in them as I am if it was not for my attendance at TechEd.
The sessions, training and the "on-the-schedule" activities of TechEd are certainly the bread and butter of the conference, but alumni know, as I learned, that they are only half of the experience.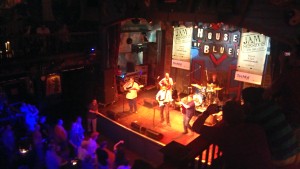 The other half of the experience that i wasn't really expecting was the large networking and social scene. Many events are put on after hours such as the complete take over of the New Orleans House of Blues, as shown above.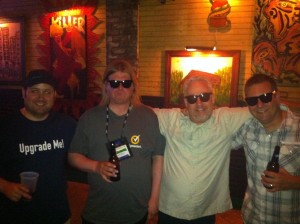 Having now experienced the entire conference, I would strongly argue that the social aspect of TechEd is just as important and valuable. I met a lot of great friends (above) during my visit and made a ton of vendor contacts, which have come in handy since. I also had the great honor of having a beer with Microsoft elites, such as Rick Claus and Joey Snow, which was really cool. These guys are true experts at their craft and their advice is sound and helpful.
Leading up to and during my visit I also got involved with #thekrewe. #thekrewe is a group of like minded IT pros that meet up at TechEd on a yearly basis. They are good people and willing to help with any IT related questions (and some non-IT related questions).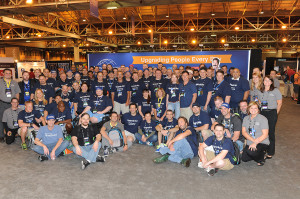 #thekrewe even hosts some of their own events during TechEd. One of the after-hours social gatherings I attended was #thekrewe meet-and-greet, and it was at this function that I met a number of people that I still talk with today. It's a great ice-breaker to start the week and can make the entire experience that more enjoyable.
All of this added up to be one of the coolest experiences of my life and it has certainly shaped my professional career during the conference, and now, months after attendance.
I'll say it again, I was VERY fortunate and lucky that my employer found it valuable for me to attend, and one of the stipulations of my attending the conference, was to come back and train the team on all things Server 2012.
I'm not a shy person, and I have no issues talking to a group of people. I had certainly done my share of presenting to our engineering group in the past, but once I got back from TechEd I started mind-sharing with the group on a much more frequent basis. I began preaching all the awesomeness that the new product lineup brings and how it can help our customers. I began making the argument of Hyper-V over VMware in the vast majority of cases, and I very much developed a passion for all things Microsoft. One might even say I was becoming Evangelical.
The concept of technical evangelism has since become a very appealing idea to me. Guys like Rick Claus, Joey Snow, and Keith Mayer became an inspiration. I have spent the last 10 years working in IT and I had finally made the determination that it was time to start giving back.  I would certainly continue to do so with the engineering group at my place of employment, but I wanted to start reaching out to a broader audience as well. I had blogged in the past, but just about little stuff, never anything of substance. I planned and researched for weeks. Finding the correct web host, deciding on a blogging platform, and focusing on content that was of interest to the Microsoft community and IT professionals everywhere.
Thus, syrewiczeit.com was born.
Some people will wonder at the name, and admittedly, I struggled with it for some time because my last name is not the easiest thing to remember when it comes to spelling. However, I remembered some sage advice imparted to me by Rick Claus, three words. "Develop your brand". Why can't my weird looking, hard to spell last name be part of that brand? It's a name that I felt people would remember, even if they don't necessarily remember how to spell it. Time will tell on that determination.
With that decided I went on to create my site and count that creation and the success of syrewiczeit.com since then to be one of my top achievements in 2013. It is the embodiment of my passion for IT and the Microsoft solution stack, and I am happy to continue that trend into 2014 and beyond.
In addition to my blog, I was given another opportunity to share my passion and knowledge with the IT community.
In the dead of summer I reached out to our local Microsoft rep at one of the events my employer puts on every year, and I inquired as to who the regional Tech Evangelist for the area was. Lo and behold, it was someone I already followed on Twitter. Keith Mayer.
Keith is one of those guys, who is just a nice guy. He is an extremely knowledgeable individual and has a passion for his work in assisting other IT pros do their jobs. We struck up a nice conversation via phone regarding some training for the internal engineering team I'm a part of, and the initial conversation ultimately turned into something much more.
I was honored to assist Keith with several projects that would allow me to continue practicing my own evangelism.
We conducted a very successful Hyper-V boot camp at my place of employment for several individuals from the West Michigan area, and I greatly enjoyed co-presenting with Keith throughout that day. I had often felt the next logical step in continuing to share my knowledge was to become a MCT (Microsoft Certified Trainer), and after the Hyper-V boot camp, I started to seriously consider becoming one and have since begun working towards that path with dedication.
The other big project that I have been honored to be a part of is the Hyper-V from a VMware Admin's Perspective podcast series that Keith and I are co-hosting together on Technet Radio. When I started working with virtualization, Microsoft Virtual PC 2007 was the Microsoft hypervisor of the day. Hyper-V had yet to be introduced to market, so I was learning VMware at the time.
As time went on, it became apparent to me that VMware wasn't always going to be on it's high horse, and that Microsoft Hyper-V was quickly becoming a viable product, thus I began to move into the Hyper-V space over the span of several years starting back in the Server 08 R2 days. Because of this background I had the unique experience of BEING a VMware admin and learning Hyper-V through that prism. A situation a lot of system admins find themselves in today.
When Keith approached me about the concept of the series I quickly agreed to do it, as it is a subject i'm very passionate about and I was totally enamored at the chance to be on Technet Radio, even as intimidating as it was. Honestly, I got rid of the butterflies after an episode or two. It's just plain fun doing the episodes now.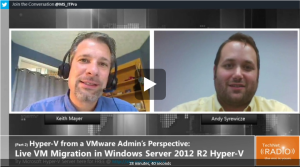 Episode 4 of the series was just released and we've recently finished recording episode 7, so there is tons of great content coming up from that medium and I"m very gracious that Keith has given me the opportunity to participate.
Finally, to round out the year, I completed the MCSA 2012 portion of my MCSE: Private Cloud goal. One exam down at TechEd and the other two knocked out in a 3 week span in Nov/Dec. Needless to say I was cramming for several weeks, but it's nice to finally make my skills with the Microsoft stack official and I highly encourage anyone thinking about the same to do so, as now is a great time to work on it. Microsoft has free second shot exams until the end of May. So HOP TO IT!
All in all, 2013 was a good year for me professionally. I learned a lot of new things, and found a new passion in my life in Tech Evangelism.
Here's hoping for a repeat in 2014.
Thanks for reading everyone!
Now back to our regularly scheduled programming………..